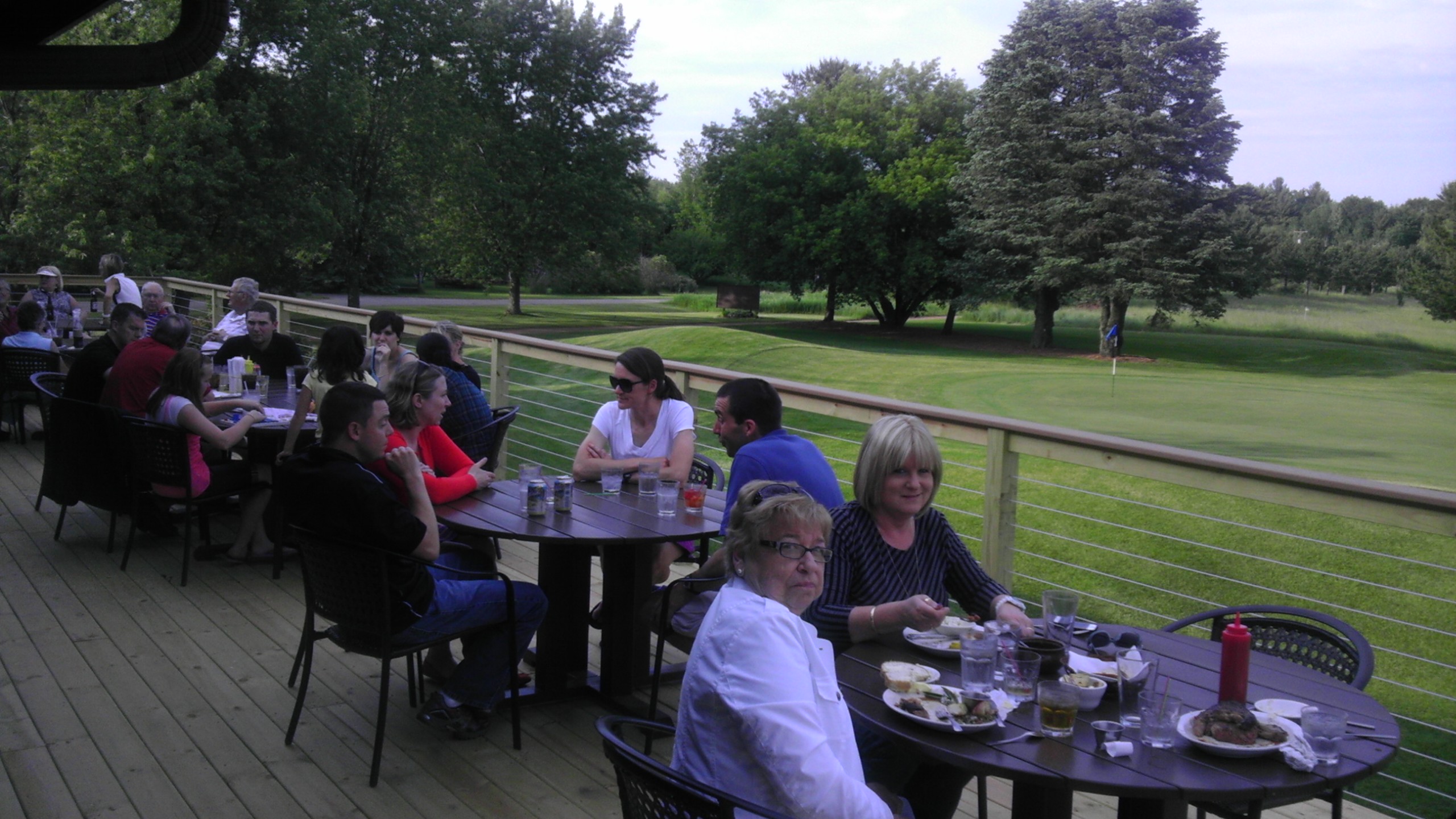 The 19th Hole at The Wisconsin River Golf Club is the perfect place to relax both before and after a great round of golf. Visit with friends and relive the days charm. You can also join us as your work week ends for our famous Friday Fish Fry!
Now serving fish fry every Friday from 4-9!!
Join us!!
Easter Brunch is now SOLD OUT! Thanks for your support!  We have a Mother's Day Brunch so make your plans early!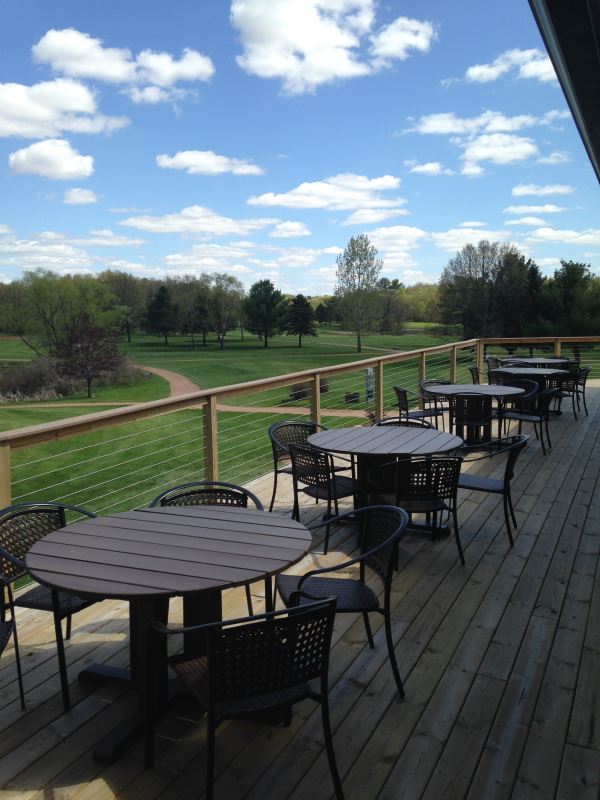 Fore Starters
White Cheddar Cheese Curds  

Truly a Wisconsin tradition  1/2 lb. served with garden ranch   7.99
Pierogis

6 potato & sharp cheddar stuffed pierogis topped with bacon and cheddar cheese served with sour cream   6.99
Basket of Fries or Chips

Hand cut style French fries or house seasoned potato chips with ranch  3.99  or sweet potato fries  4.99
Beer Battered Pickles
Served with honey mustard   5.99
Buffalo Chicken Dip
Homemade creamy and spicy buffalo dip with chunks of chicken served with fresh fried tortilla chips  8.99
Craft Beer Nachos (Brat, Philly Steak or BBQ Pulled Pork)
Fresh fried tortilla chips smothered in our white queso craft beer sauce, finished with lettuce, tomato, green onions and jalapenos.  Served with salsa and sour cream   10.99
Spinach & Artichoke Dip

Homemade creamy spinach dip with chunks of artichoke hearts served with fresh fried tortilla chips   8.99
Fried Pork Rinds
Fried pork rinds sprinkled with our house seasoning   3.99
Chicken Quesadilla
Southwest grilled chicken, pepper jack cheese and chipotle ranch inside a toasted tortilla served with sour cream and salsa   7.99    Loaded with peppers, onions and black bean corn salsa  9.49
Greens
House Salad  

Spring mix of greens with tomato, cucumber, green onions, sliced mushrooms, cheddar jack cheese and homemade croutons    3.99
WRGC Salad 

Large bed of sweet spring greens and chopped romaine, 6 oz. chicken breast or grilled prime rib strips with fresh cucumber, tomato, green onions, sliced mushrooms, cheddar jack cheese and homemade croutons    9.99
Cranberry Cobb
Large bed of mixed greens and chopped romaine with strips of diced turkey, bacon, diced tomatoes and cucumbers, hard boiled eggs, bleu cheese crumbles, green onion, cheddar jack cheese and dried cranberries   9.99
Southwest Chicken
Large Bed of mixed greens, 6 oz. chipotle grilled chicken breast, diced tomatoes, green onions, sliced avocado, cheddar jack cheese, black bean corn salsa and crispy fried tortilla strips   10.99
Kogi Krunch
Large bed of mixed greens, power blend vegetables, sliced almonds, sesame seeds and Korean beef   10.99
Dressing choices:  Garden Ranch, Fat Free French, Italian, Raspberry Vinaigrette, Bleu Cheese, Honey Mustard, Kogi, 1000 Island or Chipotle Ranch
All salads served with a slice of garlic toast
Chicken Drummies
All wings served with fresh celery and one dipping sauce
Traditional bone-in honey battered drummies

6 piece 7.99 12 piece 12.99
Naked bone-in drummies
6 piece 7.99 12 piece 12.99
Boneless, breaded, tender and juicy

1/2 lb. 8.99
All wings either plain or tossed in Buffalo, Garlic Parmesan, BBQ, Honey Mustard, Teriyaki or Cranberry Sriracha Bourbon 
On Par Pastas
Chicken Alfredo
Grilled chicken breast and steamed broccoli tossed in a parmesan garlic cream sauce and penne pasta   11.99
Italian Sausage Marinara
Italian sausage sauteed with onions and sweet bell peppers in our home made marinara tossed with penne pasta   10.99
Pesto Primavera
Penne pasta tossed with seasonal vegetables, olive oil, white wine and herbs   9.99
Wisconsin Mac & Cheese
Brat pieces, bacon crumbles and caramelized onions in a homemade creamy cheddar jack cheese sauce   10.99
All pastas are served with a slice of garlic toast
Burgers
"Gimme" a Burger
1/3 lb. fresh ground Herford beef topped with cheese, onion, lettuce, tomato on a fresh baked kaiser bun   8.99
Patty Melt
1/3lb. burger with american & swiss cheese, sauteed onions and mushrooms on grilled marble rye bread   8.99
Double Eagle
1/3 lb. burger and a 1/4 lb. brat patty topped with sauteed onions and american cheese on a fresh baked kaiser bun    10.99
Black Bean

Grilled black bean burger topped with lettuce, tomato, pepper jack cheese and chipotle sauce served on a fresh baked wheat  bun     8.99
***All burgers served with choice of fries, sweet potato fries, chips & dip,  fresh fruit, cottage cheese or applesauce***
*Consuming raw or undercooked poultry, seafood, eggs or ground beef may increase your risk of food bourne illness*
SandWedges
Grilled Chicken
Tender chicken breast topped with lettuce, tomato and onion on a fresh baked wheat bun   8.99
BLT
Crisp bacon, lettuce, tomato and mayo on toasted wheat berry bread   7.99
9th Hole
Chipotle seasoned prime rib strips, peppers, onions and pepper jack cheese wrapped in a tortilla   10.99
Cranberry Chicken Salad
Home made with lettuce on wheat berry bread   7.99
Pulled Pork
Tender shredded pork, sweet BBQ sauce and caramelized onions on a garlic toasted hoagie   8.99
Smothered Chicken
Grilled chicken, mushrooms and onions with swiss cheese on grilled marble rye   8.99
Clubhouse Wrap
Turkey, ham, bacon, mixed greens, tomato, mayo chopped and wrapped inside a golden wheat tortilla   8.99
Philly Cheesesteak
Grilled steak with peppers and onions topped with cheese queso on a garlic toasted hoagie   9.99
Pesto Turkey Avocado Club
Sliced turkey, pesto, bacon, lettuce, tomato and pepper jack cheese on grilled wheat berry or wrapped in a tortilla  10.99
Chicken Crunch Melt
Crunchy breaded chicken, bacon, BBQ and pepper jack on grilled Texas toast   9.99
**All SandWedges served with choice of fries, sweet potato fries, chips & dip, fresh fruit, cottage cheese or applesauce**
Friday Night Specials
Your Choice of Breaded, Beer Battered or Broiled (Butter wine, Cajun or Southwest style):
Haddock 
2 or 3 pieces     9.99/10.99
Jumbo Perch

2 or 3 pieces     13.99/16.99
Jumbo Shrimp or Coconut Shrimp 

6 pieces     17.99
Shrimp and Fish 

2 piece haddock and 3 jumbo shrimp 16.99  OR  2 piece perch or bluegill and 3 jumbo shrimp  18.99
Bluegill
Breaded or Beer battered  14.99
Potato Crusted Walleye  
An 8 oz. walleye fillet, potato crusted, pan fried golden brown served with fresh vegetables   17.99

Salmon with Vegetables
A generous 8 oz fresh caught Norwegian salmon fillet served either baked, grilled, blackened or with a teriyaki glaze   16.99
Prime Rib
Slow Roasted Certified Angus Beef served with savory au jus
Queen Cut
           12 oz.    16.99
King Cut
                 16 oz.    20.99
Add fried onions and mushrooms for only 1.50
All Friday Night Specials above served with coleslaw, baked beans, bread and your choice of wild rice pilaf, garlic butter baby reds, baked potato, sweet potato fries, French fries or seasonal vegetables
Shrimp Scampi Pasta
6 jumbo shrimp sauteed with white wine garlic butter and tossed with diced tomatoes, fresh parsley and penne pasta.  Served with a slice of garlic toast   17.99
PRICES SUBJECT TO STATE AND COUNTY TAX